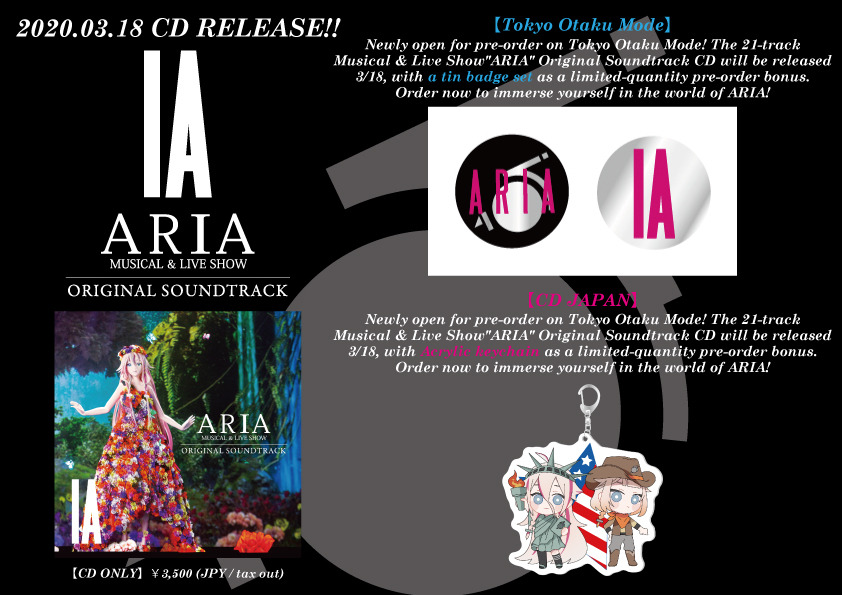 28.FEB.2020
The MUSICAL & LIVE SHOW "ARIA" ORIGINAL SOUNDTRACK will finally be available for international purchase! It consists of 21 songs, including 5 new vocal tracks, and presents the world of "ARIA" that can't be missed. Two of the included songs are "Conqueror" and "Higher," songs that have reached 1.8 million views and counting on YouTube!
The CD was sold at events both within and outside of Japan and has become a must-have item among hardcore fans. It includes messages from IA and allows the listener to immerse themselves in the world of the show.
The producers of the songs are diverse and include creators from all sorts of scenes, such as Shinichi Osawa (MONDO GROSSO), TeddyLoid, ANANT-GARDE EYES, Ishifuro, and DJ DANTZ.
Those who make their pre-order through Tokyo Otaku Mode or CD Japan starting today will receive a wonderful special freebie!
Customers who pre-order through Tokyo Otaku Mode will receive a special badge set, while orders through CD Japan will come with an acrylic keychain. Please use this opportunity to get IA's latest CD and cool freebies!
[Product Information]
Artist: IA
Title: MUSICAL & LIVE SHOW "ARIA" ORIGINAL SOUNDTRACK (Featuring 21 songs)
Release date/price: Wednesday, March 18, 2020 / 3,500 yen (excl. tax)
Digital streaming release date: Wednesday, March 18, 2020 (simultaneous worldwide release for download/subscription streaming services)
CD JAPAN (international shipping only):
https://cdjapan.neowing.co.jp/product/ARIA-1002
Tokyo Otaku Mode (international shipping only): https://otakumode.com/fb/gxg
<収録曲>
1. Introduction ~Planet ARIA~
2. ARIA's Breath
3. Dawn of the Planet ARIA
4. HAVE FUN!
5. Discord
6. The national anthem of ARIA
7. One Heart
8. Resonance World ~Inner Journey~
9. LIFE LOVE PEACE
10. PARTY A GO-GO
11. Conqueror
12. 絶対領域
13. ホロンボット feat. IA (ARIA Ver.)
14. Reload
15.夜咄ディセイブ -TeddyLoid Hopping Remix-
16. てるみい (Live Ver.)
17. Euphoria (Live Ver.)
18. Resonance World
19. The Eternity And More
20. Higher
21. ARIA ON THE PLANETES ~Best wishes for you~
[Notes]
※ M2-8, 10, 19, 21 New Tracks
※ M4, 7, 9, 11-21 Vocal Tracks